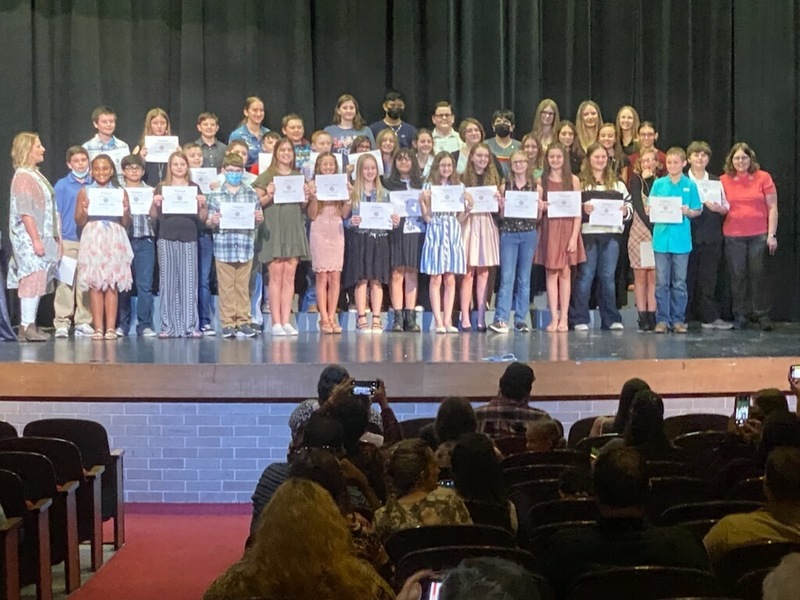 "Let us lead by serving others." This National Beta Club motto rings true for our Junior Beta Club here at Tarkington Middle School who has accumulated 432 service hours thus far. Our club is sponsored by Mrs. Danielle Thompson and Mrs. Amber Keith. The officers leading the club are President Dani Gibson, Vice President Alison Mathis, Secretary Savannah West, Treasurer Emma Brosey, Historian Delaney Foster, Chaplain Karlie Hudman. In September, the club hosted their annual induction ceremony where they inducted 36 new members into their group. In order to be invited into the club and maintain their membership, students must keep a 90 or above average, be in good behavioral standing, and complete 20 individual hours of service work throughout the year.
"We are working hard to prepare for the convention. Our submission dates are Dec. 3-10, so we only have a couple of weeks left to get ready," says Mrs. Thompson. Students have the opportunity to compete at the state convention in a variety of events for a chance to advance to the national level. Last year's club competed at the National level in several events in Orlando, Florida over the summer. We wish this amazing group of students the best of luck as they get ready to compete.
Congratulations to all new and existing members for their hard work, morals, example, and commitment that earned their position as a 2021-22 Junior Beta member!